THANK YOU FOR CONSIDERING ROCK SPRINGS CHRISTIAN ACADEMY FOR YOUR CHILD'S EDUCATION.
RSCA seeks to enroll students who are prepared to grow and learn to demonstrate the school's four core values.
• Develop Strong Work Ethic
• Display Attributes of Christian and Service-Driven Character
• Discover and Cultivate Talents
• Demonstrate Willingness to Embrace Challenge
BECOMING AN RSCA EAGLE
Is something not working at your child's school this year? There are lots of reasons to consider a change. Is your family relocating? Perhaps your current school's approach to learning isn't the right fit. Is your child dealing with social issues? Regardless of your reasons for making a change, we're glad you are considering Rock Springs Christian Academy.
We know that choosing a private school can seem a bit overwhelming. Our admissions team is committed to providing all the information you need to learn more about the RSCA experience and the difference a Christian education makes in the life of your family. As a parent, you know that your child's education will impact the trajectory of their future. Whether your student is in kindergarten or high school, you want them to thrive — academically, socially, emotionally, and spiritually. At Rock Springs Christian Academy, we develop the whole child for a lifetime of learning, providing a strong foundation for success in college and beyond.
Challenging academics, engaging extracurriculars, and a Christ-centered worldview, day in and day out – that's what you can expect at Rock Springs Christian Academy. We invite you to learn more about the RSCA experience and how to enroll your child at our private school, located in Milner, Georgia.
Connecting with a member of our admissions team ensures we can discuss your child's needs and consider how RSCA might meet those needs as well as your high expectations. Our team will also discuss and explore how the school and family can work together in achieving the school's mission through partnership and carrying out the school's four core values.
Take the next step and schedule a visit to our campus to explore the distinctives that set RSCA apart. We look forward to meeting you soon and learning more about your family's goals, as well as your child's unique interests.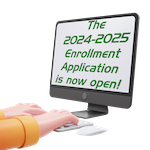 The application for the 2024-2025 school year is NOW OPEN.
RSCA is still accepting students for mid-year enrollment for the 2023-2024 school year in available grades.
Be sure to choose the correct year when starting your application for enrollment.
Request More Information/Request a Personal Tour