Rock Springs Christian Academy values the wellness, safety and security of our students, families and staff.
We are blessed to have a full-time SRO and School Nurse on campus each day.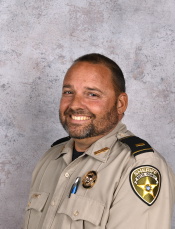 SCHOOL RESOURCE OFFICER
Our School Resource Officer, Butts County Lieutenant Oberst has 17 years of experience in Butts County and 23 years in law enforcement. He has served as an SRO since 2002 in Clayton and Butts County.
Contact:
You may contact Lt. OBerst by email at SRO@RSCA.info.
A Student Parking Permit is required for all students who drive to school. COMPLETE THIS FORM and return to Mrs. Farrar in the high school office.

SCHOOL NuRSE
RSCA is happy to welcome school nurse, Meagin Singley, RN to our team. She married her husband, Mike, in 2014. Together, they have two beautiful daughters, ages 3 and 5, and two dogs. Mrs. Singley has been a pediatric nurse since 2013, working in the hospital setting as well as a pediatrics practice. She and her family have been members of Rock Springs Church since 2018.
Contact:
You may contact Nurse Singley by email at msingley@rsca.info or by phone at (678) 692-0192 ext 3201.
HEALTH & ILLNESS guidelines
Sick children (temperature of 100.3 F or more, vomiting, diarrhea) will be sent home. Please DO NOT send your child back to school for 24 hours following these events. The student must be fever free for 24 hours after last fever reducing medication was given. In the event of a bacterial infection (strep throat, pink eye, MRSA, etc.) the student must be on antibiotics for 24 hours AND fever free for 24 hours before returning to school with a school note.
MEDICATIONS
If medication can be given at home or after school hours, please do so. However, if medication must be given during school hours, a medication authorization form must be completed and turned in to the school nurse.
Prescription Medications
Medications must be in the original labeled container (no baggies, foil, etc.). Pharmacists can provide a duplicate labeled container with only the school doses.
Parent/guardian must provide specific instructions, as well as the medication and related equipment to the school nurse.
A school action plan must be completed for asthma medications, seizure medications, diabetic medications, or epi-pens
It will be the responsibility of the parent/guardian to inform the school of any changes. New medication or new doses will not be given unless a new form is completed, and a newly labeled container is provided.
All medication will be taken directly to the school nurse by the parent
Unused medication will be disposed of unless picked up within one week after medication is discontinued.

Over the Counter Medications
Over the counter medications can be administered during the school day ONLY by the school nurse at her discretion. The child will be assessed in the clinic and determined whether medication is needed at that time
A medication authorization form for OTC (over the counter) medications MUST be completed by the parent/guardian for a student to receive these medications
OTC medications will include Tylenol (liquid/tabs), Ibuprofen (liquid/tabs), Benadryl (liquid/tabs)- ONLY given in the event of an allergic reaction, hydrocortisone cream, and antibiotic ointment.
Documentation of medication administration will be done through RenWeb
Policy on self-administration/ self-carry of emergency medications by students
Students may be allowed to self-administer/self-carry certain emergency medications. This includes asthma quick-relief inhalers, insulin taken by a student wearing an insulin pump, Epinephrine auto-injectors, and rescue seizure medication. All controlled substances carried by a student must be in a locked bag with a key code and carried by the student at all times. The parent MUST sign a form stating their child has demonstrated the ability to handle/ administer these medications to themselves and the student/parent assumes the responsibility of the medication.
In order for a student to self-administer/self-carry emergency medication, the following is required:
Signed self-administration authorization from parent or legal guardian.
Consent to treat from a parent or legal guardian for the school to seek emergency medical treatment for the student when necessary and appropriate.
Emergency action plan on file signed by a physician
The student should be able to demonstrate the ability to self-administer/self-carry and their level of understanding about the medication and the condition requiring it.
The school nurse will evaluate the student's health status and abilities for safe and appropriate self-administration and should observe the student's technique. The student should be able to verbalize what they will do when assistance is needed or is not responding to the medication.
Whenever possible, a back-up supply should be kept in the health room or clinic.
Teachers who are with the student during the day should be aware that the student is carrying the medication and can self-administer if needed. Teachers should also be trained in how to administer the medication if the student is unable.