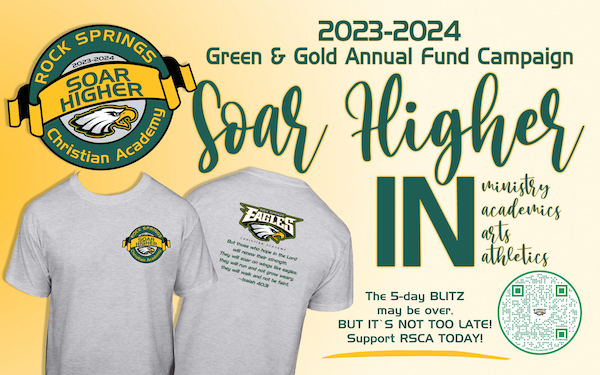 The Green and Gold Annual Fund is a yearly fundraising appeal to bridge the gap between the total cost of operating our school and tuition revenue. Contrary to popular belief, tuition does not cover the full cost of educating each student. It takes tuition and charitable donations to provide the distinctive qualities that RSCA offers including smaller classes, exemplary teachers, exceptional academics, fine arts, and athletic programs, more personal attention, and an unapologetically Christian foundation for our students. Also, gifts to the RSCA Green and Gold Fund are tax-deductible where tuition is not.
Although the 5-Day 'Blitz' has ended, it's not too late to participate! The Annual Fund Campaign runs from August through July each year.
WHERE DO THE DOLLARS GO?
Gifts to the RSCA Green & Gold Fund supplement our operating budget and provide unrestricted resources for the school's immediate needs. These needs include faculty/staff development, technology, program support for all levels of the school, and facility maintenance.
HOW CAN MY DONATION MAKE A DIFFERENCE?
​Every gift makes a difference, regardless of the amount. For some families, the gift could be as small as $5 - $10. For others, it could be hundreds or thousands of dollars. Giving comes from the heart. We encourage you to pray and give according to your means to support our ministry. Also, robust participation percentages in giving by the RSCA community, including our board of directors, faculty/staff, parents, and alumni helps pave the way for potential future support from outside organizations and charitable foundations.
WAYS TO GIVE TO RSCA
​RSCA accepts gifts in a number of different ways including cash, credit card, appreciated stock, and matching gifts. RSCA is a 501 (c) 3 non-profit organization, therefore gifts to the school are tax-deductible as provided by law (please consult your accounting professional for additional information).
Kingdom Leaders: $1,500 or above
Kingdom Builders: $750-$1,499
Eagle Circle: $250-$749​​​​​​​​​​​​​​​​​​​​​​​​​​​​​​​​​​​​​​​​​​​​​​​​​​​​​​​​​​​​​​​​​​​​​​
RSCA Friends: $1-$249​​​
Will you help us reach our goal of 100% family participation? Return your donation or pledge TODAY!
Families who contribute to the RSCA Fund Campaign receive the following:
For a donation of any amount, each family will receive 2 specially designed 2023-24 RSCA Soar Higher car clings and a homework pass for each RSCA student in grades K5 and above.
For a donation of $250 or greater, each family will receive the above along with a Friday-approved "SOAR HIGHER" t-shirt. (Please complete and return the t-shirt order form, if applicable.)
​
RSCA GREEN AND GOLD FUND CAMPAIGN DONOR FORM
2023-24 SOAR HIGHER T-SHIRT FORM (Complete this form if your donation is $250 or greater.)
Please return all forms to the attention of Kim Smith (ksmith@rsca.info).

Rock Springs Christian Academy is classified as a 501c (3) non-profit, tax-exempt organization.
All gifts to the RSCA Fund are tax-deductible as provided by law (please consult your accounting professional for additional information).